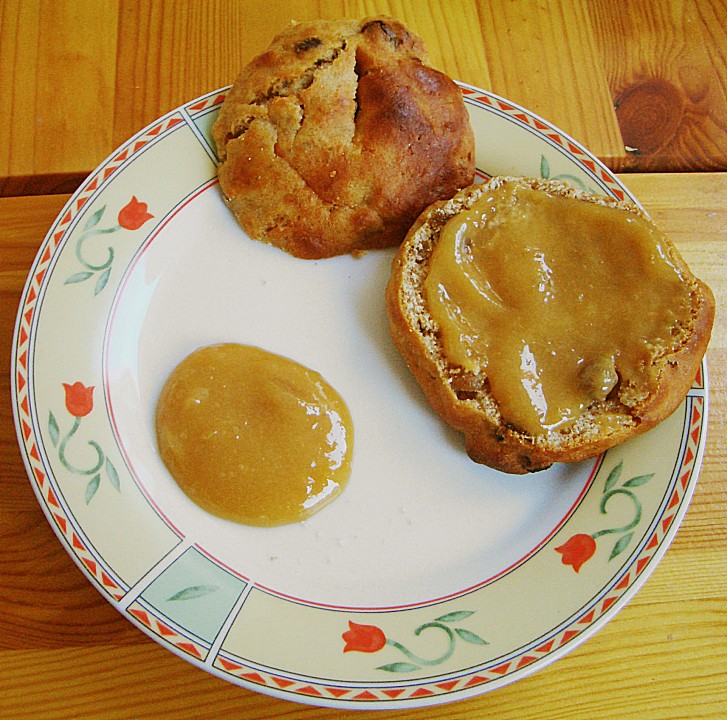 English orange spread
A sweet spread, which can be prepared well.
ingredients for 10 people:
2 mittelgroße unbehandelte
Oranges
3 Owner
80 g Butler
120 g of sugar
Inexpensive
Per serving about:
580 kJ / 140 kcal
2 g protein – 9 g of fat
13 g of carbohydrates
Preparation time: about 30 Minutes
1. Wash the oranges thoroughly with hot water, Pat dry and rub the peel. Squeeze the oranges.
2. Whisk the eggs in a saucepan. The butter, the sugar, stir in the orange juice and the orange peel. Place the pot on the stove in a larger pot of boiling water.
3. Die Orangenmasse etwa 15 Stir in a water bath for minutes, until it has become thick. Let the spread cool down a bit, then pass through a sieve.
4. Den Orangenaufstrich ausgekühlt servieren. In the refrigerator the spread is up to 1 Week. It goes well with buttered toast or fresh rolls.
variant:
Instead of the 2 You can also use oranges 3 Use untreated lemons. Prepare the spread as described in the recipe.
Tip!
Before rubbing citrus peel, place a piece of parchment paper on the grater. You can use the oranges- Then gently knock the lemon peel off the paper and the grater stays clean.