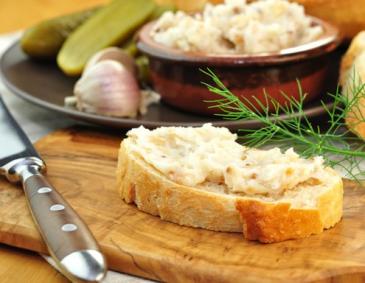 Steirisches Grammelschmalz
ingredients for 12 people:
1 kg of fresh fat pork bacon (move) without rind
1/8 l milk
1/8 l water
salt
1 large onion (about 150 g)
2 Garlic cloves
1 big sour apple (about 200 g)
1 On the road. dried, zerriebener Majoran
Takes some time
Per serving about:
2700 kJ / 640 kcal
4 g protein 69 g of fat
3 g of carbohydrates
Preparation time: about 1 hour
1. Cut the pork bacon into small cubes and place in a large saucepan with a heavy bottom.
2. Pour in the milk and water, Salt vigorously and the bacon roughly over low heat 30 Leave minutes out slowly. Stir frequently.
3. Cut the onion into small cubes. Finely chop the garlic cloves.
4. Wash the apple, peel and cut into small cubes, free from the core casing.
5. When the bacon cubes start to turn yellow, little by little the onion, Knoblauch- and apple pieces as well as the marjoram and about 15 Let fry for minutes.
6. When the grammars (Grieben) have turned golden brown, take the pot off the stove and let the lard cool a little.
7. Pour the lard into small stone pots or glasses and allow to solidify at room temperature.
8. After cooling, seal the vessels with parchment paper or cling film. The gram lard can be kept cool and dark for a few weeks. It goes well with strong farmhouse bread.