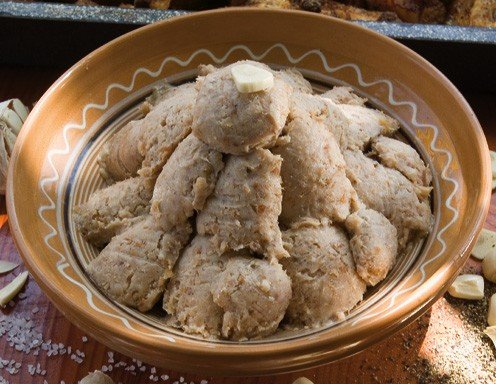 Kärntner Sasaka
The spicy meat spread comes from the Carinthian Gailtal. It does take some time, but can be prepared well. It can be kept in a cool place 2 Shelf life for weeks.
ingredients for 8 people:
600 g fresh pork belly
1 On the road. ground caraway seeds
¼ On the road. black pepper, freshly ground
salt
2 Garlic cloves
2 Eßl. Lard
For garnish:
1 small onion (about 50 g)
1 On the road. noble sweet paprika powder
Takes some time
Per serving about:
1500 kJ / 360 kcal
11 g protein 34 g of fat
1 g of carbohydrates
Preparation time: about 2 Hours
1. Rinse the pork with cold water and pat dry with kitchen paper. The caraway, mix the pepper and a little salt in a bowl. Put the garlic cloves through the press.
2. Rub the pork vigorously all around with this spice mixture. Preheat the oven to 220 °.
3. Heat the lard in a frying pan on the stove. Sear the meat on all sides over high heat.
4. Roughly the pork belly in the preheated oven 1 Hour. Occasionally brush the meat with the resulting juice.
5. The fried pork, for example 15 Let cool for minutes. Then remove the pork and the pork belly in slices, then cut into strips. Remove the cartilage.
6. Turn the meat through the coarse disk of the meat grinder or chop it very finely. Mix the chopped meat with the frying stock.
7. Season the spread again with salt and pepper and let it cool down. Cut the onion into thin rings.
8. Serve the cooled meat spread garnished with the onion rings and dusted with the paprika powder. It goes well with strong farmhouse bread or rye bread.
Tip!
Colorful onion rings for garnish you rested, if you put the rings in curry powder, Turn the paprika powder or chopped herbs.
variant:
Carinthian minced stuff
Instead of pork belly, cut smoked bacon without rind and gristle into pieces and turn through the meat grinder. The minced with crushed garlic, a bit of salt, Season with plenty of freshly ground black pepper and dried, grated marjoram.