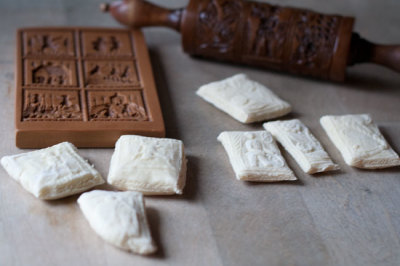 Springerle
Recipes
2 Owner,
200 g powdered sugar.
350 g flour.
1 Knife tip of baking powder.
flour for rolling.
Grease for the tin,
2 Eßl. Anissamen.
Beat the eggs with the hand mixer. Stir in powdered sugar spoon by spoon. Keep beating the crowd, until it is pale yellow and plump.
Mix in two thirds of the flour and baking powder. Knead in the rest of the flour with your hands. Put the dough on a little flour or between cling film 1 Roll out cm thick. Press the floured model into the dough and cut the springerle apart. Place on a greased baking sheet sprinkled with aniseed. At room temperature about 24 Dry for hours. Put the tray in the oven, on 150 Grad / Gas Stufe 1 switch and about 20 Bake for minutes. Leave the Springerle open for a day. so that they become soft; only then pack it in cans (per piece approx. 80 Calories).