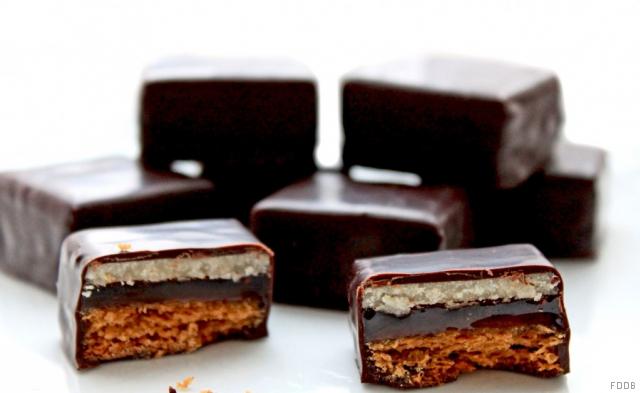 Dominosteine
FOR 45 PIECE
200 g honey
100 g brown sugar
50 g Butter
500 g flour
1 a pack of baking powder
1/2 Teaspoon cinnamon
1 Msp. Clove powder
1 No
For the filling:
200 g Johannisbeergelee
200 g marzipan paste
1 Tbsp rum as desired
For the set:
300 g dark chocolate couverture
Grease for the tin
preparation: 60 Min.
baking time: 15 Min.
Per piece approx.: 140 kcal
Preheat the oven to 200 ° (Circulating air 180 °). Grease the tray. Melt honey with sugar and butler. Flour, baking powder, cinnamon, Knead the cloves with honey and egg. On the sheet 1 cm thick from linen. In the oven (Not) 15 Min. to bake, Halve while hot.
Heat the jelly and stir until smooth. Spread a thin layer of it on one of the pastry sheets. Knead the marzipan with the rum and roll out between cling film the size of a sheet of dough, place on top of the jelly layer, Brush with jelly, put on the second sheet of dough and press it on. Cut the dough into cubes.
Let the couverture melt, Cover the cube with it.